We're part of a new generation of Cognac lovers.
We're brother and sister, Sophie and Max, and we'll be handpicking your bottles for each one of your subscription deliveries. We're passionate about Cognac, and want to dust off the cobwebs from the "tweed and cigar" image that has long been associated with this very fine spirit.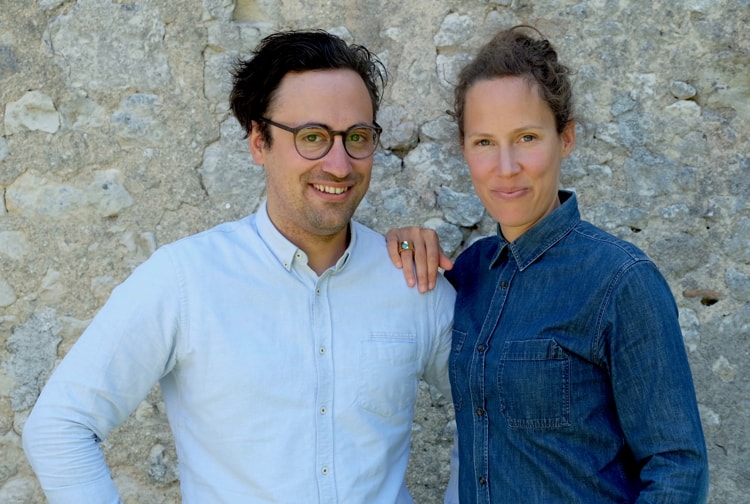 Brother & sister Sophie and Max
You'll find us at the heart of the Charente region, where our family roots extend back three generations. Our grandparents acquired an agricultural property in the Charente region over half a century ago, and while our grandfather grew walnuts and apples, he also cultivated his own Cognac vineyards. As long as we can remember, our friends and neighbors have produced Cognac and shared their secrets with us.
Cognac is a multifaceted drink. While tradition and cultural heritage are closely linked to it, it also attracts international customers looking for a refined, unique experience. That's what we try and bring to you with each unique subscription box.
Sophie with Laurent at Guy Pinard Cognac
We have been taught so much by experienced farmers, distillers, blenders and merchants. These people make the region so special, and each one has their own history to tell. Their traditions extend back many generations, and, like us, are deeply attached to this part of the world. Cognac is more than a drink here, it is a way of life.
Our farm in the Cognac region (photography from 1990's)
Harvest image from the 1950's
Cognac Expert honors such traditions by bringing together our love for the region, our ambition to innovate, and our online Cognac resource.
Not only can you order a special selection of handpicked bottles, but you can access an exclusive universe about all things Cognac. Over the years, we have built a young and dynamic team of 20 people based all around Europe. We believe in creating a community of like minded people, and nurturing dialogue with both our team and customers.
Harvest helpers in the courtyard of our farm (photography from 1960's)
All of the Cognac sold on Cognac-Expert is strictly produced in the region itself. We can guarantee absolute authenticity with every bottle we ship to you, thanks to our strong local links. Each one is shipped directly from Cognac, France, to your doorstep.
There's no need to worry about packaging, insurance, and customs declarations, we do it all. Cognac-Expert's number one priority is our customers' trust and safety, therefore we use protected payment services.
Enjoy your first bottle with our subscription service, and let us know if it's your perfect match.
Drink responsibly, and always in style.
Sophie & Max